The riad is ideally located in the medina of Fes, 50 metres from the main street, very close to Bab Boujloud the famous "blue gate". Easy and direct access by car in front of the door, with secure parking at the foot of the riad. Our parking lot is free and under video monitoring
Completely renovated in 2011, the ryad has very high quality traditional decorations. Quiet and peaceful, the hotel benefits from its own private pool. You will be able to rest in the traditional Moroccan courtyard, by the swimming pool, or on the four-level, with it's stunning 360° view over all Fes medina.
Layalina guest house is comprised of 4 bedrooms & 2 suites. All rooms are in tadelakt, have air conditioning, heating, satellite TV and free optical fibre Wi-Fi (high speed guaranteed in the entire riad).
Hearty breakfast is included.
When you are at the Riad, attentive staff will ensure your comfort and well-being. A restaurant and cook are at your disposal to simmer up for you the best local specialities or dishes of your choice.
The true art of living in Moroccan style, and this haven of peace in the heart of the Fez Medina, will ensure you have an unforgettable stay in our guest house Riad Fes Layalina.
Riad Layalina offers two accommodation options : B&B as a guest house or riad holiday rental as private, ideal for families, friends or group events.
Riad Layalina Fez
Ryad Layalina guest house is located in Fez medina, 50 metres from the main street and nearby Bab Boujloud.
Comprised of 10 rooms and 7 bedrooms, the hotel has an outdoor swimming pool, a traditional Moroccan courtyard and a four-level panoramic terrace with a 360° view over all Fez Medina. Bedrooms are equiped with heating, air conditioning & safe.
Equipped with optical fibre, free & high speed Wi-Fi is guaranteed in the all guest house.
Easy and privileged access by car & secure parking at the foot. B&B Layalina, is a peaceful place.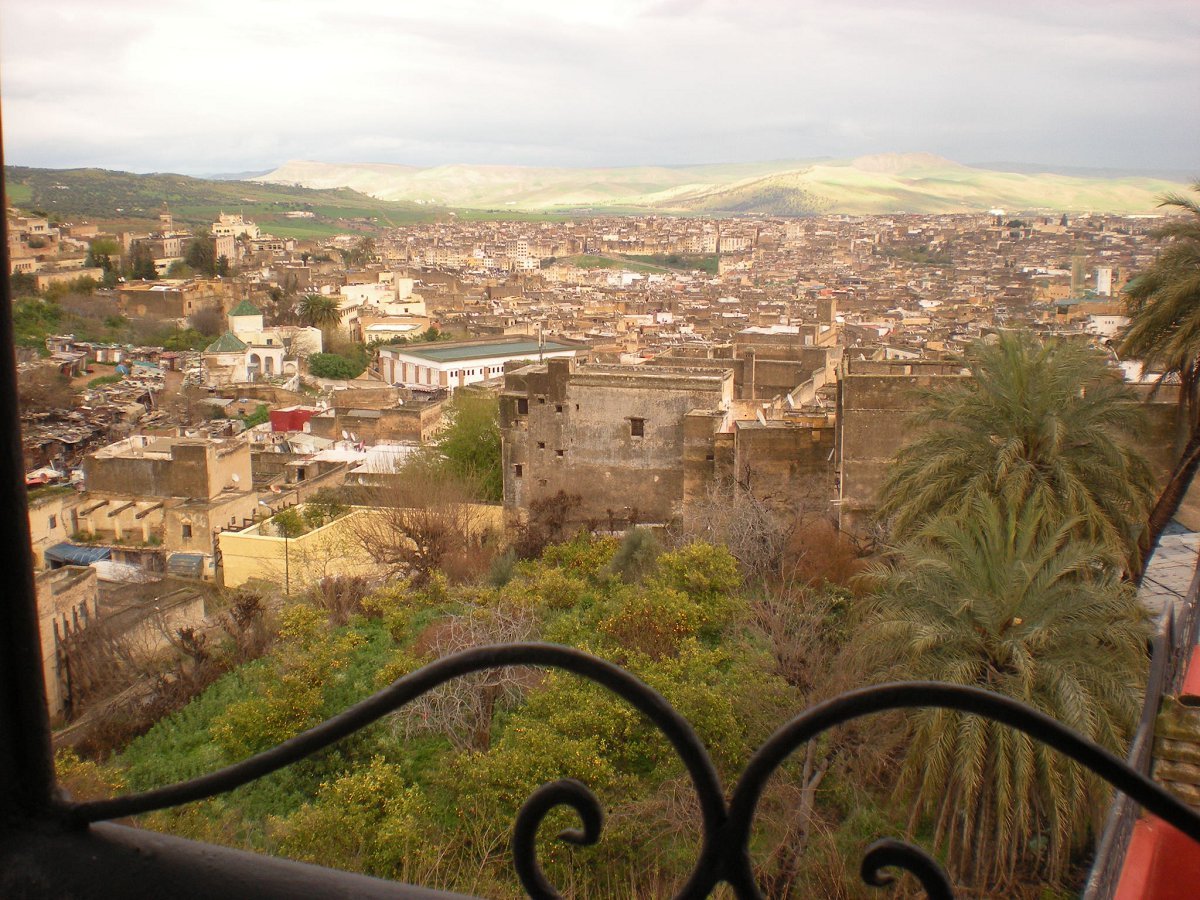 Your stay in Fez, 2 options
Ryad Layalina is comprised of 7 bedrooms and can accommodate up to 18 people.
2 options are available:
Guest house B&B stay:
From 80 to 130 € / night, breakfast included
Riad rental & private:
690 € / night, breakfast included
4 200 € / week, breakfast included
I enjoyed every minute that I spent in this Riad, the staff was so responsive, nice and very helpful. I recommend this Airbnb to anyone who wants a nice place near the medina.
Mohamed – Cary, USA
Best location, best staff in this charming Fez Riad. Riad Layalina was everything we'd hoped for. Jerome communicated in a timely manner, the Riad was charming and the staff was very accommodating – even preparing breakfast for us at 0645 before leaving. The location is excellent.
Mary – Seattle, USA
We had a lovely stay at Jerome's place. The Riad is beautiful, and the location is very convenient for touring the Medina. The breakfast was lovely and the staff are wonderful.
Susan – Seattle, USA
We had wonderful time at Riad Layalina. The staff is very warm and welcoming with great hospitality. The Riad is beautiful architecturally, has a gorgeous courtyard and oversize room and nice view. The place is close to shops and restaurants in Medina. We loved the breakfast every morning – including Moroccan tea & onion Msemen. The Riad was key part of our Fes experience; we will highly recommend this Riad.
Ajay – Monroe Township, USA
We have book the riad for a family stay mid Dec 2022. Nothing we can say except, if you would like to experience a great Moroccan stay with a nice family go ahead and book. Excellent location, great communication and welcoming staff.
Rachid – Marrakesh, Morocco
Perfect for seeing all the sites of Fez. Communication was excellent with clear instructions for finding the Riad. The bed and bathrooms made us feel like royalty. The included breakfast was a great way to start our day. WiFi was also great for getting some work done as a digital nomad. As a bonus, they had secure parking for our two motorcycles. Overall, a wonderful experience and a great memory of Fez.
Travis – Coronado, USA
The location is superb. The atrium decor is the best I saw in all the riads I stayed on. The breakfast was the best I ate on my trip to Morocco. Excellent and warm hospitality from Asmaa and Radouane.
Kaio – London, UK
Perfect price-value-ratio! Easy access to the city and free parking on top. beautiful garden with pool.
The traditional riad had everything we needed.
Thank you for the great stay
Heimo – Graz, Austria
Amazing Riad, the staff was kind and attentive. We were a group of family and friends celebrating a big birthday and we're treated extremely well.
The staff was dedicated and they even sorted a last minute lunch for 11 people that was ordered 45 minutes before our arrival! Amazing!!
Would definitely recommend and the location close to the walls allows you easy access with the car in and out + walking to the Medina.
Ed – London, UK
Riad Layalina is a lovely place to stay perfectly situated within the Medina. We were made to feel very welcome and well looked after. The breakfast was very pleasing with local delicacies. The staff and Jerome couldn't do enough to make us feel welcome and help us. The bed and room were very comfortable. We would highly recommend this Riad and will definitely be back again.
Karen – Lorient, France