Moroccan Cooking course
The Riad Layalina, in Fes, offers a delightful, fascinating alchemy of scents, tastes and traditions. It's the ideal setting for a sociable course on Moroccan cooking, showing you how to create some of the great dishes in Moroccan cuisine.
The workshops are arranged for small groups, so as to allow each participant to become fully involved, with total immersion for the best possible learning experience.
The half-day class begins with shopping in the medina. You learn how to choose the best ingredients and to combine them with spices.
Back at the Riad, you'll learn how to prepare Moroccan salads; the secrets of couscous or tajine, which you'll make in pure Moroccan tradition, will be revealed. At the end of the session, the apprentice cooks will sample the dishes they have made in the course of a convivial lunch in the setting of the Riad Layalina Fes.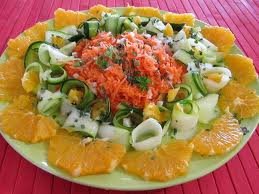 Cost 1/2 day cooking class: 45 € per person
Location: Riad Layalina Fes
A minimum of two people per session is required.