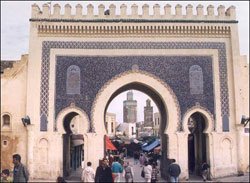 Fès is an unmissable "city-museum." Milling with people and full of colour, it has stunning decoration, such as the medina of Fez el Bali, one of the largest cities in the world of the medieval type.
The town of Fez is divided into three parts : Fez el Jedid (semi-old Fez) and Fez el Bali (old Fez) which make up the medina, and "Fes la Jeune" (new town) ) built by the French at the time of the protectorate and where the administrative district is to be found.
In order to get an overall impression, the best thing to do is to go to the heights overlooking the city. For this, you will need to take the "Route de Tour de Fès", which branches off from Avenue Hassan II (main street of the new city) and leads to El Kolla hill where the Merinid Necropolis is (Fourteenth Century).
The Medina is not only an historic centre for bazaars and tourists. It is also an important economic centre. Fez is one of the largest cities in the kingdom in economic terms, the second biggest industrial city and furthermore, the majority of its activities are concentrated into the medina.
These consist mainly of art industries. Some specialised areas of this arts and crafts industry that one can mention are woodwork with sculpture and painting on wood, wrought iron, engraved copper, gold and silver work, ceramics, silk weaving and embroidery.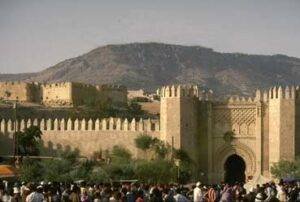 All these crafts are practised in tiny workshops or shops. These craftsmen generally use old-fashioned equipment. Apropos of the ceramics'trade, one observes that in many enamel workshops they no longer take any care in production or the due attention to be paid to the firing process. On the one hand, the pilot workshop method at one time adopted by the administration, has enabled craftsmen to preserve their expertise and improve production, and on the other, the scale of royal orders over the last few decades has led to prosperity in some sectors, particularly in the arts and crafts associated with architectural decoration.
We are currently witnessing a monopoly of markets and distribution channels for the benefit of a minority. Many craftsmen are finding it harder to gain access to the market and acquire the material and financial opportunities to improve production. The question can be raised : how does one save this cultural heritage under these socio-economic dynamics ?
Fez should not become a sort of anachronistic out-of-context ecomuseum. In any case, it does not have this intention, which further complicates the act of conservation.